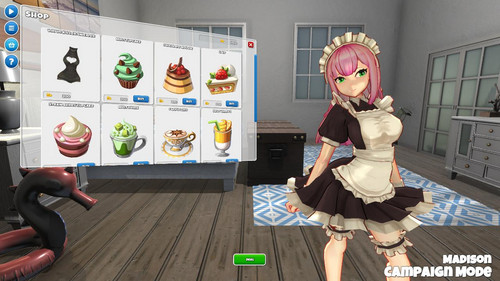 Welcome to March!

The original plan was to have bedroom Blackjack completed by now.
While the project has come a long way my development milestones have been slipping a little.

There have been some unanticipated delays and the game has increased in scope a little since it's launch.

Here is a complete update in the name of transparency.

Inventory System
I have almost finished the new inventory system that will enable you to purchase outfits and gifts from the Shop.

Gifts
I have had to rework much of how the playing deck works in order to support different types of cheats.
More gifts should become available soon.

Animation Assets
I have hired an animator to make stripping animations for the remaining clothing items in the game.
The animator has encountered some delays, but I am assured that 8 x new stripping animations will be available this week.

3D Art Assets
I had costumes planned for Valentines day and for the Mistress Of Cards, but the 3D artist has been unavailable lately.
I am working with them now to free up their availability and get those costumes into the game ASAP.

I am also looking into hiring a second 3D artist to increase the rate at which new costumes are added to the game.

Dialogue
I had hoped to have all voice acting clips recorded and in the game by now.
However, I have not quite finished writing all of the dialogue yet.

This is because I need to consult a sensitivity professional as there are different backgrounds and cultures that I want to respect.
I want the game to have good representation and I recognise that I am not qualified to do that on my own.

Official Release Date
I have made the decision to push back the official release of the complete game to September 2022.
This means that the game will have been have been in Early Access for 12 months.

Apologies for the inconvenience.

Thank You
Thank you for your patience. The community has been very supportive and patient with me.

A special thank you to those who have given me valuable feedback about the game and given me opportunity to make Bedroom Blackjack better.

Until next time, player.